BILLY ELLIOT COMES TO WORCESTER!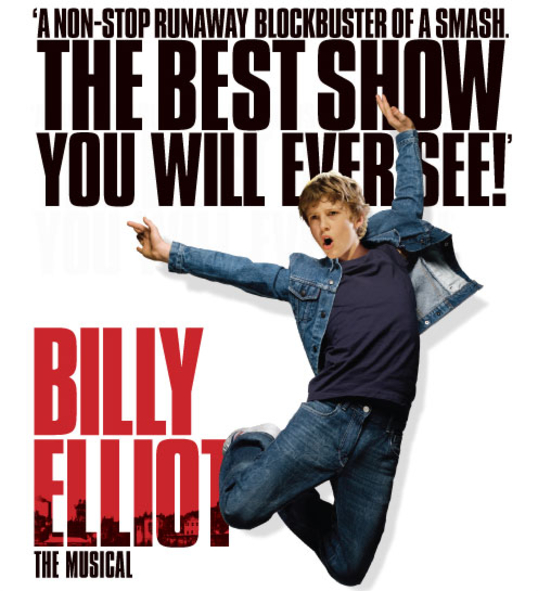 JAGO PERFORMERS
TO TAKE PART IN AWARD WINNING BILLY ELLIOT THE MUSICAL'S
B I L L Y Y O U T H T H E A T R E 2 0 1 1
Following the enormous success of the Billy Youth Theatre 2010, the producers of Billy Elliot the Musical are delighted to announce that JAGO PERFORMERS from Worcester have been chosen to participate in the second year of the countrywide scheme offering schools and youth groups the opportunity to stage their own production of this internationally award-winning show.
Billy Elliot writer Lee Hall, together with Martin Koch (Musical Supervision and Orchestrations), have adapted their original script and orchestrations to produce a shortened version of the show exclusively for groups staging local productions as part of the project. Billy Youth Theatre 2011 will involve participants from schools and established youth groups in England, Scotland and Wales, and to performers aged 10-19 years.


With over 3,000 young people taking part in separate productions being staged across the country from Perth to Poole, Billy Youth Theatre is truly a nationwide event. JAGO PERFORMERS from Worcester are delighted to announce that they will be performing their Billy Youth Theatre production locally in May at a local theatre, to be confirmed.
To support and encourage the local productions, the directors of the participating groups will be given a unique opportunity to come to London in December this year to take part in a specially created weekend workshop led by the award-winning team that brings Billy Elliot to life each day on the London stage.
Between May and June next year selected productions of Billy Elliot from around the country will be invited to perform excerpts from their productions at showcases held at major regional theatres. The Billy Youth Theatre 2011 will culminate with selected groups being offered the opportunity to follow in the steps of Billy and perform at the Billy Youth Theatre West End Gala at the Victoria Palace Theatre, Billy's London home, in July.
Lee Hall, who originally conceived the idea behind Billy Youth Theatre, said: "I was completely overwhelmed by the response to our first Billy Youth Theatre. The level of energy and commitment from everyone involved was exceptional. I hope we can repeat the excitement and enthusiasm in our second year, we are looking forward to getting started."
JAGO PERFORMERS was established in 2008 by London trained Simon Hundley to give children of all abilities the opportunity to attend fun and relaxed, yet educational activities focused on the Performing Arts. Since its establishment, it has produced six short courses including three Summer Schools and two Easter Schools, a weekend stage school offering extensive performing arts training and a total of 9 productions. "Billy Elliot is our biggest show yet and we are all so excited that we will be representing this area in such a critically acclaimed programme. We are very lucky!" "We want to make this production open to as many people as possible and would love all of the fantastic schools in Worcester to jump on the bandwagon with us! Worcester has got a lot of talented students and teachers, not just Jago, and we would like to be the stepping stone to help showcase this and really show what Worcester can do! If you are interested in being on stage, in the orchestra, behind the scenes, front of house or would like to help organise the musical, please get in touch!" Simon Hundley

FIRST ROUND OF AUDITIONS ARE ON SUNDAY 19th DECEMBER
10.00am-4.00pm (Please arrive at 9.45am for registration)
@ TUDOR GRANGE ACADEMY, BILFORD ROAD, WORCESTER
**EVERYONE WELCOME TO AUDITION, NOT JUST CURRENT STUDENTS!

**