SUMMER SCHOOL 2010!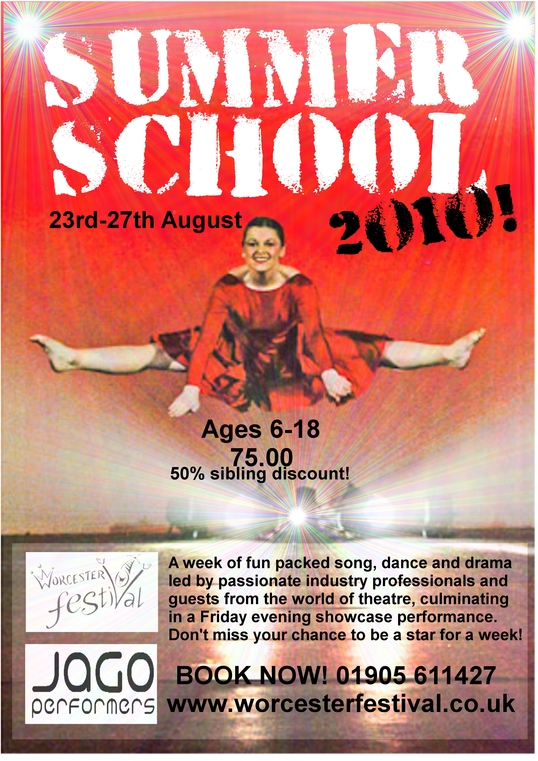 Summer School 2010 will soon be upon us and we are busy organising lots of exciting activities and workshops for the week! New additions to the programme this year include theatrical makeup workshop, professional film workshop, costume design workshop and comedy club acting.
We will once again have some fantastic guest teachers from the world of theatre including Tim Driesen from London (
Never Forget, Mamma Mia, Starlight Express, Joseph, & Rocky Horror Show
).

We will also be welcoming back many of the staff from previous workshops including Samm Price, Helen Connor, Chris Love and Rachel Adams. Workshop directors are once again Simon Hundley and Laura Rayner.
Please see staff page for teacher biogs.
The workshop will take place at:
Perdiswell Young People's Leisure Club, Worcs
although
may
be relocated to:
Tudor Grange Academy, Bilford Rd, Worcester
if the decision is made to split the course into three age groups as opposed to the usual two.


Our theme for this, our sixth course, is 'Time' and the show numbers will take the audience on a journey through different elements of Time.
So don't waste time! Book today as there are only 10 places remaining for this fantastic opportunity!
Bookings can be made by printing and returning the form below or through the box office at:
Huntingdon Hall
Crowngate
Worcester
Tel: (01905) 611427